Sharpless 2-277 in H Alpha
Including Horsehead Nebula (B-33) and Flame Nebula (NGC 2024)
October 2011- January 2012

Last year I published an image of the Horsehead using my older Orion ED-100 scope. Those images were so bad that it encouraged me to upgrade to the FSQ106.
This is a complete reshoot with my current equipment.The image of the Horsehead proper (NE Mosaic frame) was captured from early October to mid November 2011. After some test shots with Nitrogen and Oxygen I decided to only capture Hydrogen Alpha
After completing collection of the basic HorseHead I decided to expand the project to a mosaic. Data collection for the other three panels of the mosaic was completed in January 2012.

Images
The Sharpless region extends beyond the area that is classically considered to be the Horsehead and Flame. Much of the Eastern portion is very dim. Stretching that portion to highlight its structure cuts the contrast for the main portion of the nebula. Consequently I have processed the image in two different ways. In the top image I have made the eastern portions of the Sharpless more visible. In the bottom image I processed the image more classically which emphasizes IC 434.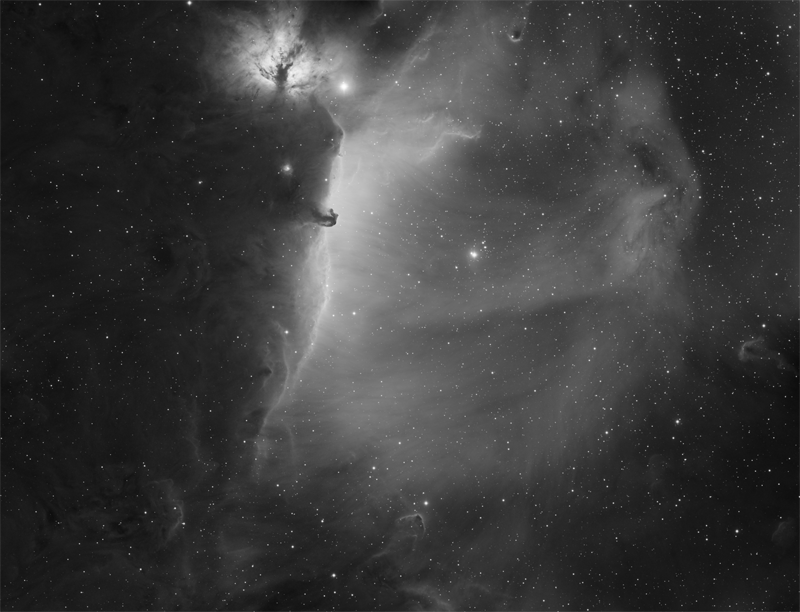 More Classically processed image that emphasizes the Horsehead



.
Data Collection and Processing
The mosaic consists of 4 segments

| Segment | # Exposures |
| --- | --- |
| 1 NE (NGC 2024 and IC 434) | 63 x 900 sec |
| 2 NW | 66x900 |
| 3 SE | 47x900 |
| 4 SW | 72x900 |

The images were processed using PixInsight. Of special note is each used the new (circa Nov 11) MidScaleMedianTransform and HDRMultiscaleTransform Processes. These greatly simplified the entire processing sequence. The former both sharpened and eliminated noise. Since this just Hydrogen the main image is grayscale.

The main difference between the two images above is the use of LocalHistogramEqualization on the top image.

The mosaic was constructed using the Gradient Merge Mosaic tool.


About the Horsehead
The Horsehead is a dark nebula that obscures the Hydrogen clouds of IC 434. It is part of a complex area of nebulosity that runs throughout Orion. The Flame Nebula (NGC 2024) is the top part of IC 434. The nebula extends beyond the view of the initial photo which prompted my plans for a mosaic. In the map below the initial image is shown in green. For more information see the Wikipedia article.

| | |
| --- | --- |
| | The green marks the approximate location of the first image |
Copyrights for Photos



Except as noted, all work on this site by Robert J. Hawley is licensed under a Creative Commons Attribution-Noncommercial-Share Alike 3.0 United States License. This permits the non commercial use of the material on this site, either in whole or in part, in other works provided that I am credited for the work.