C/2011 L4 Panstarrs

March 12, 2013 and March 16,2013

March 12

Technically this is not a photograph from Almaden Observatory. I traveled to Henry Coe State Park so I could get a view to the horizon and be as far away as possible from the persistent high clouds over the Pacific. On this date the times were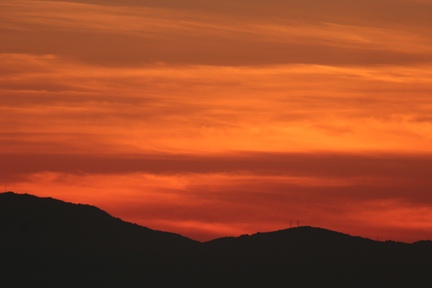 The weather was better than my previous attempt on Saturday March 9. Unfortunately some clouds remained. These limited my view of the comet after nautical dusk which was exactly when I would have preferred to look for it.


At first even the one day old moon was not visible. Around Civil dusk the thin crescent became visible. From our charts we knew the comet should be to the south at about the same altitude.


I first spotted the comet about 8 PM. As predicted it was at the same level as the moon. Both were heading for the clouds.


I captured this view with my new high powered lens at 8:04 PM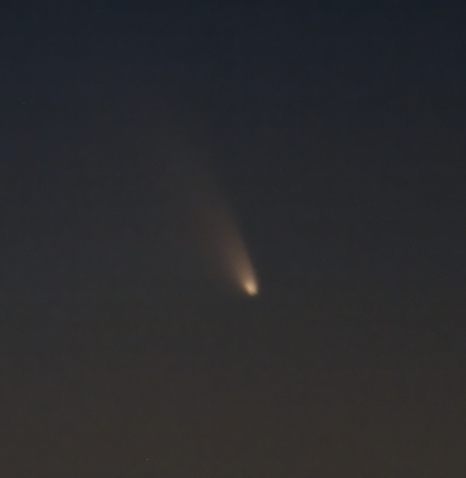 420mm, 4 sec, f/5.6, ISO 100, Cannon 300mm +1.6 extender

At this point the comet was just visible using averted vision.

After the initial picture I switched lens and captured the moon and the comet together at 8:10 PM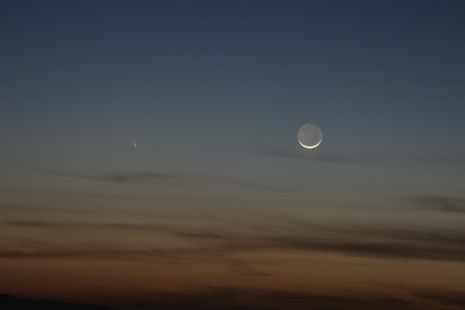 click for a larger image
4 sec, f/5.6, ISO 100, 135mm with Canon 28-135 zoom
I followed both down, but as they descended into the clouds we lost the comet.

I may try for a picture later in the week using my 900mm Orion telescope, but that will require another good night like last night.

Details of the Pictures
All of the pictures were taken using a Canon 20Da on a fixed tripod.
March 16
Back at Henry Coe. The weather forecast was for scattered high clouds, but the west horizon looked clear. Well that forecast did not turn out. It was virtually completely overcast, but the west still had some breaks. There was a large cloud right where I expected the comet to be setting. Fortunately I was looking in the wrong place! One of the other observers spotted the comet north of where I was looking in a relatively clear patch of sky. These are the best of the images. Both were taken at 8:24 PM (3-17 03:24 UTC) at ISO 800 with an Orion ED-100 on an Orion Skyview Pro mount.
4 sec
Processed with PixInsight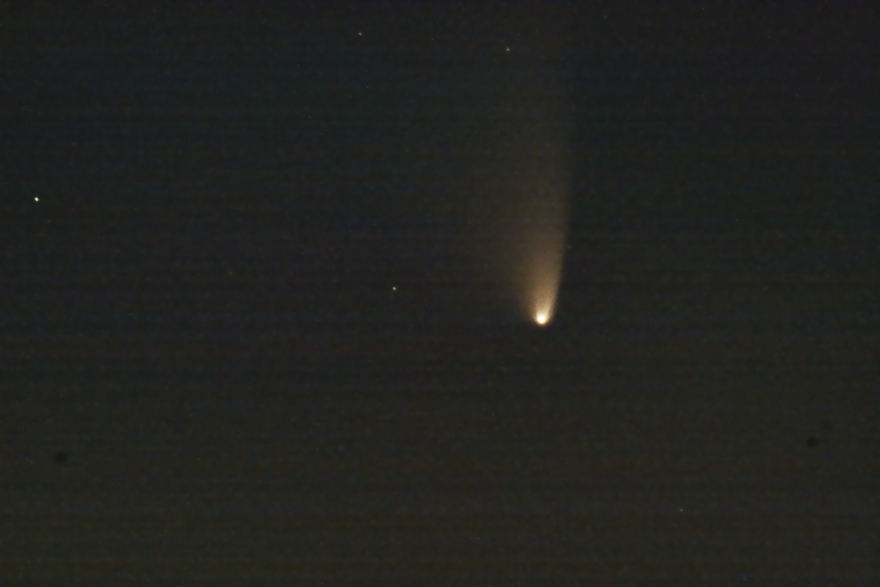 click on image for full size
8 sec
JPEG from camera with minimal processing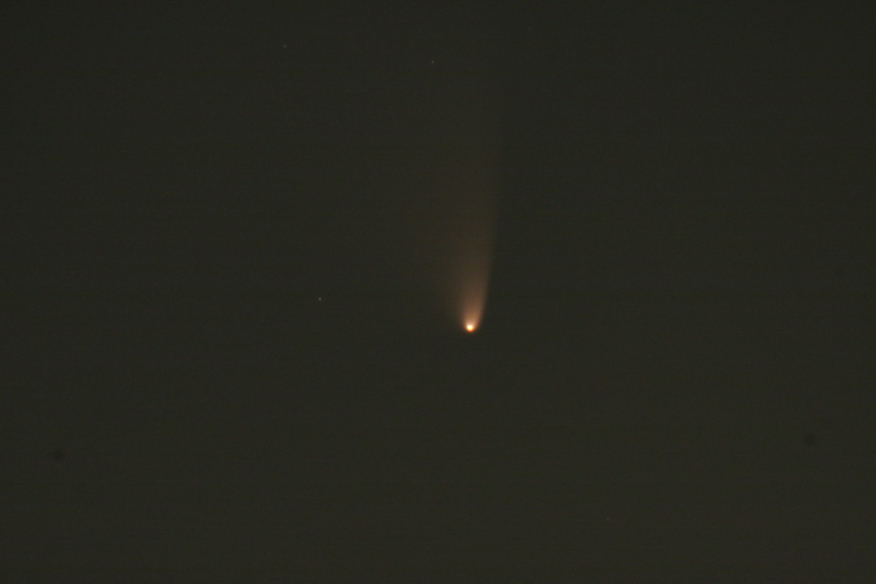 click on image for full size
Copyrights for Photos